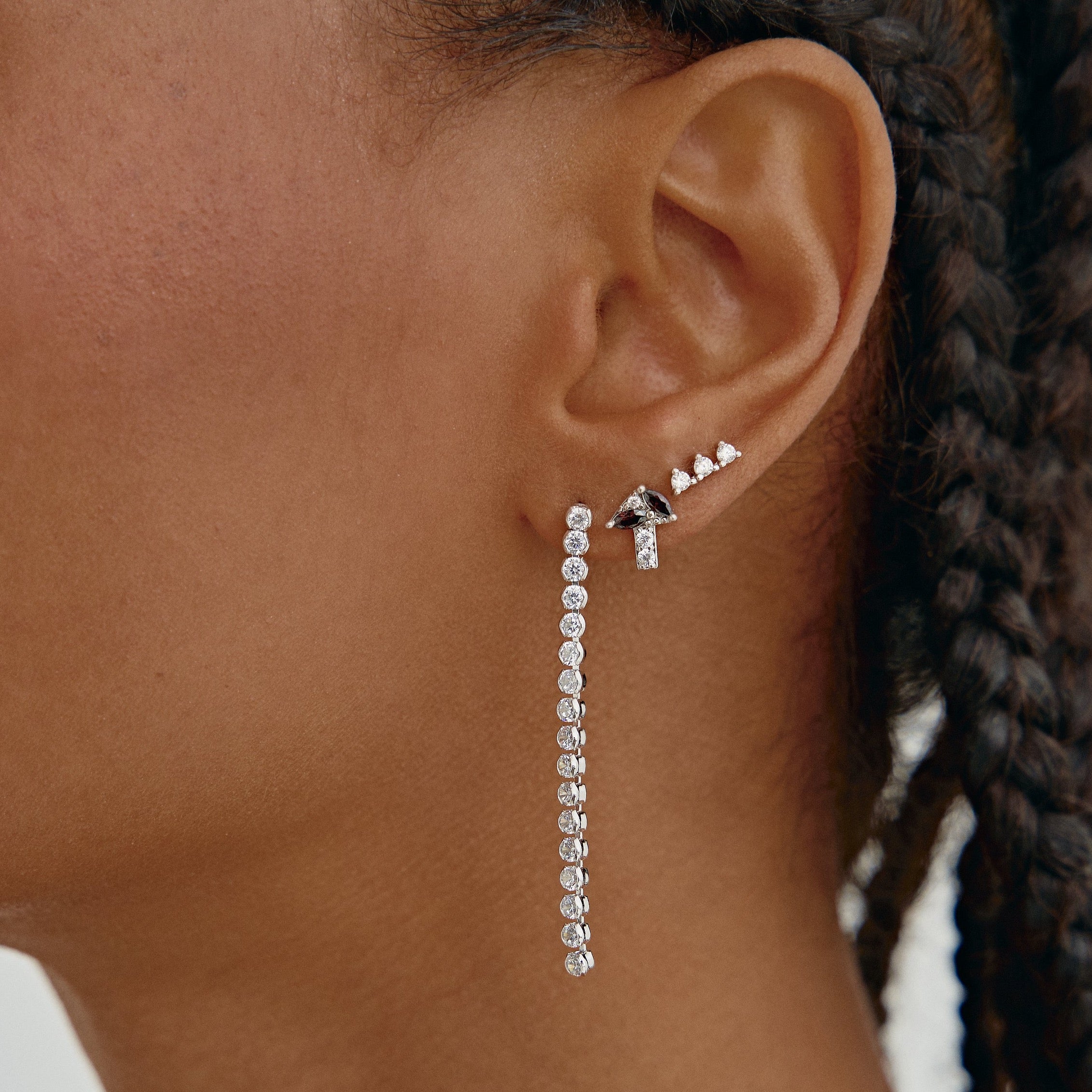 RIVNE SILVER
Sale price

$25.04
Regular price
(/)
- 925 Sterling Silver Earrings

- Total size: 8,5 x 5,5 mm

- Crystals: White and dark brown -almost black- zircons.

- Clasp system: Butterfly screw back

- They come as a set or as an individual item
Here are some tips on how to care for and maintain your jewellery:

- We advise you to store your jewellery in a cool, dry place that is preferably airtight, to avoid oxidation.

- We recommend that you do not expose it to corrosive agents such as chlorine, grease, sweat, perfume, alkaline agents, or salinity for a long time.

- You can store your jewellery somewhere where you avoid exposing it to direct sunlight or artificial light for long periods of time.

- We suggest that you do not store it directly in contact with wood as it contains acids that can affect the surface of the jewellery.


- In case your jewellery is 925 Sterling Silver, not gold plated or made of brass, we suggest that you clean it relatively often to keep it shining. You can use warm water with a little soap and rub with a soft brush. You can then rinse it with water and dry it with a soft cloth or a hairdryer on the lowest setting.

- We recommend using a cloth suitable for cleaning jewellery. Gently rub the silver surface with the cloth to polish it or remove marks from skin contact. Caution: Do not wash the cloth and make sure the jewellery is completely dry before rubbing.

- We do not recommend swimming in the sea or in swimming pools if your jewellery is gold-plated 925 Sterling Silver, as chlorine, salt and the sun will damage the gold-plated layer.

If your jewellery is made of steel, you can bathe in it. Their alloy is much stronger. In case your jewellery is made of bronze or brass, please do not put it in contact with any of the above mentioned, as it will be damaged immediately.

*Please check on your product sheet what material your jewellery is made of.
SPAIN (PENINSULA) and PORTUGAL

Orders over 50€ - FREE

Orders under 50€ - 3€.

Delivery time - up to 48 hours

For logistical reasons, deliveries are not available in the following places: Ceuta and Melilla.

IMPORTANT: Please indicate correctly the Postal Code. In case of indicating it wrongly, the amount of the shipment will have to be paid again by the customer.

BALEARIC;

Orders over 70€ - FREE

Orders under 70€ - 6€.

Delivery time - up to 72 hours

EUROPE (Austria, Bulgaria, Czech Republic, Croatia, Cyprus, Denmark, Estonia, Germany, Greece, Hungary, Latvia, Liechtenstein, Lithuania, Luxembourg, Monaco, Netherlands, Norway, Poland, Romania, Serbia, Slovakia, Slovenia, Sweden, Switzerland, Slovakia)

Orders over 120€ – FREE

Orders under 120€ – 9€

Delivery time – 4-5 working days

FRANCE

Orders over 120€ – FREE

Orders under 120€ – 9€

Delivery time – 4-5 working days

ITALY

Orders over 120€ – FREE

Orders under 120€ – 9€

Delivery time – 4-5 working days

UNITED STATES

Orders over 120€ – FREE

Orders under 120€ – 15€

Delivery time – 7-10 working days
RIVNE SILVER
Sale price

$25.04
Regular price
Choose options